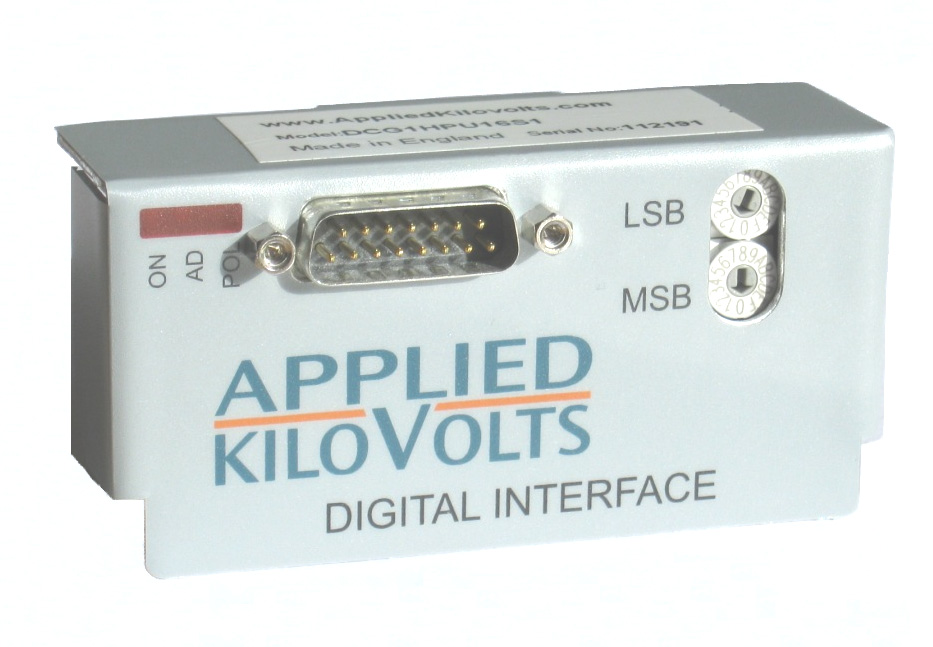 Digital Control
High Precision Power Supplies
Digital Control System
Applications:TOF Mass Spectrometers, Electron Microscopes, Electron Guns, Surface Science, X-ray Systems
High Stability - Very low temp-co <5ppm/ºC

16 bit monotonic DAC for Voltage Control

HP Unipolar & Reversible Modules

Very low noise injection

Very high noise immunity

Optional Optically isolated Data Path

Safe Operation

Ground loop offsets & noise eliminated

12 Bit Readback of o/p Current, 8 bit Readback of o/p Voltage

Ribbon Cable interwiring - easy configuration

& reconfiguration

Single USB port for up to 64 PSUs
This Digital Interface system uses a proprietary bus structure to provide a very low noise, highly stable control for up to 64 of our Precision High Voltage power supply modules, both unipolar, and reversible, via a single USB port.
A simple ribbon cable connection scheme to a master interface and a 24V power supply enables a safe, flexible, multichannel high voltage system to be quickly and easily configured, and reconfigured, for such applications as Mass Spectrometers, Electron Microscopes, & Surface Science Equipment.
A fibre-optic data path is also available for high voltage isolation, for Electron Gun and Ion Gun applications, where control of a group of power supplies elevated to many kV is easily configured.
Safety is paramount: power is removed from a module, the moment its comms path is broken.
Electrical Specification
Input
+24V dc ±10% <1A. 0V input common to HV return and chassis.
DAC
16 bit Monotonic
DAC & Reference Temp-co
<5ppm/ oC
Readback
8 bit HV o/p Voltage readback 12 bit HV o/p Current readback
Maximum no of PSUs
64 can be addressed. Note ribbon cable will need additional power connections for >3 PSUs
Mechanical Specification
USB Receiver
100mm X 65mm X 25mm
HP Interface Cards
HP - Fits within the envelope of HP Series case
Fibre Optic Relay Module
100mm X 65mm X 25mm