Download Data Sheet

»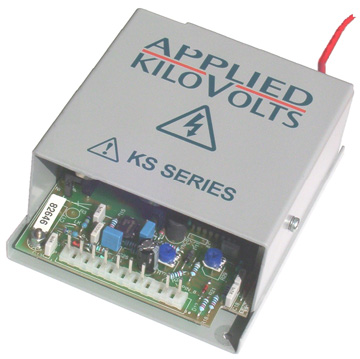 KS Series
General Purpose High Voltage Modules
KS005P, KS0055N, KS010P, KS010N, KS020P, KS020N, KS030P & KS030N
Applications: Monitor CRT, Lens voltages, Focus and high voltage bias, Ion pumps, Image intensifiers
5kV, 10kV, 20kV & 30kV

High frequency switch mode

Internal control or externally programmable

Short circuit and flashover proof

24 hour burn in

General purpose
These stabilised miniature power supplies are available in either positive or negative polarity at output voltages of 5kV, 10kV, 20kV and 30kV. They are intended for cathode ray tube and general purpose applications and the output voltage can be controlled by internal or external potentiometers or by and external 10 volt analogue control voltage. The units are pin compatible with the high precision HP series and the 100Watt HW series of power supplies.
All units are short circuit proof and use high frequency switching techniques, in conjunction with a ferrite step-up transformer to control the output. All high voltage components are vacuum encapsultaed in silicon rubber.
Please contact us to discuss special versions of these units.

The KS Series is now UL recognised (E254121).
Electrical Specification
Unit Type
Polarity
Output
Ripple At Full Load
KS005PAA300
POSITIVE
50 volts to 5kV at 1mA
<0.02% peak to peak
KS005NAA300
NEGATIVE
KS010PAA300
POSITIVE
100 volts to 10kV at 0.5mA
<0.02% peak to peak
KS010NAA300
NEGATIVE
KS020PAA300
POSITIVE
250 volts to 20kV at 0.2mA
<0.02% peak to peak
KS020NAA300
NEGATIVE
KS030PAA300
POSITIVE
500 volts to 30kV at 0.1mA
<0.02% peak to peak
KS030NAA300
NEGATIVE
Input Voltage
+24 volt d.c. ±10% at less than 0.5A. Negative input terminal common to HV earth return.
Output Voltage
See separate table.
Line Regulation
Less than 0.1% for input changes of 1 volt.
Load Regulation
Less than 0.1% for load changes from 10% to full load. (Measured at maximum voltage).
Overload Protection
Flashover and short circuit proof.
Temperature Co-efficient
300ppm/ °C or better.
Control
Readout
Voltage monitor: 0 to +10V represents zero to maximum output, tolerance ±3%, (source resistance 10 kohm).
Current monitor: (Stack return type) Optional on all units.
Operating Temperature
0 °C to +45°C
Storage Temperature
-35°C to +85°C
R.F.I.
Choke input filter. Steel case for low radiated magnetic field.
Safety
Complies with EN61010 Part1.
Mechanical Specification
Size
All units 115 x 98 x 47mm
Output
By 0.5 metre of URM43 screened (shielded) cable (KS030P & N by 0.7 metre of TV30)
Fixings
M3 clearance holes. Bracket AK20035 available for end mounting.
Weight
0.65g
Input Connector
Molex 10 pin, mating connector supplied.
Order Code
Series Code KS

o/p KV
Polarity
Options Code
Temp Co
005=5kV
P = +ve
N = -ve
AA = No options
IS = Stack Return Current Monitor
300

eg. +10kV KS series with Stack Return Current Monitor: KS010PIS300