Download Data Sheet

»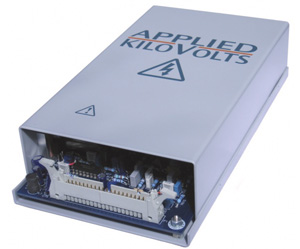 MS0.2 Series
Precision High Voltage Module
MS0.2MZZ065
Applications: Beam steering, Focus and bias supplies, Deflector Plates, Electron guns & Ion beams
High Stability, Low Ripple

Externally programmable - through zero control

Short circuit and flashover proof

24 hour burn in
This power supply provides six outputs each separately programmable from -200V to +200V with respect to Gnd. It is intended for steering, focusing & biasing of electron & ion beam applications. Biasing steering plates in pairs, this can control X, Y & Z directions. Each output is controllable cleanly through zero.
Please consult the factory for special variants of this supply including high speed versions.
Electrical Specification
Input
+24V dc ±0.5V <0.5A. 0V input common to HV return and chassis.
+15V dc ±0.5V <0.5A , & -15Vdc ±0.5V <0.05A.
Control of Output
-10V to +10V for –100% to 100% ±2%, (Zin = 200Kohm)
Output Current
100μA per channel
Voltage monitor
-8V to +8V ±2% for –100% to 100%. (Zout= 10k)
Current Monitor
Not available
Ripple
<25mV pk to pk
Line regulation
<100ppm for 1V change in input voltage
Load regulation
<100ppm for 10uA to maximum load
Temperature co-efficient
<25ppm/ºC
Drift (after 1 hour warm up)
<0.01% per hour, <0.05 over an 8 hour period
Protection (all outputs)
Protected against intermittent arcing and continued short circuit to ground. While able to source or sink 100uA, the unit will be damaged by sustained sinking of a beam current in excess of 200uA.
Environmental Specification
Temperature, storage
+10°C to +50°C.
Humidity (RH) <31°C
80% maximum
Temperature, operating
-35°C to +85°C.
Humidity (RH) >30°C
Decrease linearly to 50°C
Altitude, operating
Up to 2,000m.
Altitude, storage
Up to 18,000m
Mechanical Specification
Dimensions
210 x 114 x 47 mm
Mounting centres
4 off M4 studs
Input / control
40 Way IDC header, 0.05" pitch, straight latching, bump/clip polarized
(Thomas & Betts 635-4034ES) Mating connector supplied.
Mating Output Socket
QM 12 way plug, Souriau SMS 12 P1, plus SMS12H1 (Hood)
plus 12 off T2P20FC1LT Trident 20AWG socket contacts