Download Data Sheet

»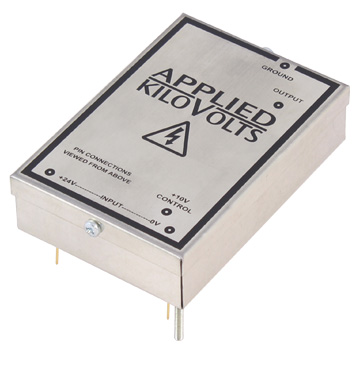 MP Series
Miniature High Voltage Modules to 3kV
MP001, MP2.5, MP003
Applications: Photomultiplier tubes, Lens & bias supplies, Test Equipment
2W programmable o/p Voltage

Size 80mm x 55mm x 20mm (1kV)

High stability, low ripple

High frequency switch mode

Short circuit and flashover proof

0-10 volt programming

24 hour burn in
This range of power supplies are a miniature version of the HP family giving up to are intended to be mounted on a printed circuit board and offer high stability together with low drift. They use high frequency pulse width modulated switching techniques in conjunction with a ferrite step-up transformer to control the output voltage.
Applications include powering photomultiplier tubes, and electron multipliers in scientific and other instruments.
We manufacture a number of special versions of these units and would be pleased to discuss your volume application with you.
Electrical Specification
Unit Type
Polarity
Output
Ripple At Full Load
MP001P
POSITIVE
+50 volts to +1kV at 2mA
50mV peak to peak
MP001N
NEGATIVE
-50 volts to -1kV at 2mA
50mV peak to peak
MP2.5P
POSITIVE
+100 volts to +2.5kV at 1mA
125mV peak to peak
MP2.5N
NEGATIVE
-100 volts to -2.5kV at 1mA
125mV peak to peak
MP003P
POSITIVE
+125 volts to +3kV at 0.7mA
150mV peak to peak
MP003N
NEGATIVE
-125 volts to -3kV at 0.7mA
150mV peak to peak
| | |
| --- | --- |
| Input Voltage | +24 volt d.c. ±10% at 0.25amp maximum. |
| Control | By 0 to +10V to give 0 to Full O/p Voltage ±5% |
| Line Regulation | Better than 100ppm for 1V change in input voltage. |
| Load Regulation | Better than 100ppm for 0 to full load. |
| Ripple | Better than 50ppm peak to peak (measured at maximum voltage and current). |
| Temperature Co Efficient | Typically <200ppm/ °C. Tighter versions available. |
| Operating Temperature | 0 °C to +50 °C |
| Storage Temperature | -35 °C to +85 °C |
| R.F.I. | Choke input filter |
Mechanical Specification
Size
80mm x 55mm x 20mm. - MP001
Output
Pins for 1kV, o/p by flying lead for units >1kV.
Order Code
series code MP

o/p KV
Polarity
Options Code
Temp Co
001=1kV
P = +ve
N = -ve
AA = No options
AV = Voltage Monitor Fitted
200

eg. -1kV MP series with Voltage Monitor Option fitted : MP001NAV200